our sponsors

the organisations who help us make a difference
Not all banks charge like a rhino. Take the smashing team at Barclays' Community Banking, who agreed to support us with completely free banking for life. So not a penny of your donations will ever go towards bank charges. Zilch. Zero. Not a cent. Cheers guys! You're our type of bank.
We were tickled pink when those lovely people at Printing.com told us they wanted to help save some weenies. The result is that our stationery, cards and leaflets are all courtesy of the UK's leading national print house. So not only do we have the nicest printing in the world - it's free!

Our lovely lawyer friends at Addies did all that legal eagle complicated stuff needed to actually set Chernobyl Heart up, which left us completely free to get on with helping the weenies. We'd like to especially thank Richard Jones and his heart of gold - he's a top bloke. Cheers Richard!
Our lovely friends at Regent continue to help us in so many ways, but in particular that smashing lady Andrea Godfrey gives us all our Belarusian travel and accommodation at cost price (and even that doesn't come out of charity funds, but is paid for by Nige and Jamie).
The ever-wonderful Freebirds just make life so much easier for us and, therefore, in turn, the weenies themselves. Their constant support and funding is a magnificent boost and creates endless possibilities for us to save lives. Special thanks to the Freebird team - you're all stars.
Imagine how spiffing we found it when our super friends from the Czech Republic's national carrier offered such low fares to Belarus. Now we can pop over and check on the weenies more often. But remember - Nige and Jamie pay for all travel and admin out of their own pockets.
Not only is Auntie Rachel at Agenda a very generous supporter, she's kindly agreed to do all the adminny bits to ensure that the books for Chernobyl Heart are kept in a transparent and accessible way. So anyone can check at any time and see where the money's going.
The pragmatic PayPal people give us a scrummy low, low rate per transaction, so every time someone makes a donation, virtually 100% of it comes through to the weenies' coffers. Which means we can do so much more than if we had to pay full price on card processing fees.
Not all accountants are the same. Ma2 Chartered Accountants have been tremendous in helping us set up charity exemption status with HMRC and work through the minefield of gift aid paperwork. And all for free! Thanks guys, we love you!
Ann Salisbury-Jones
This is Jamie's mum, and apart from being a very lovely lady, she's a smashing quilter. In fact, a dab hand with fabric generally. And she's working tirelessly through the night, with only the light of a candle, to make us some fab little comfort quilts for the weenies. Aw, sanx Ann.
It doesn't really matter what line of business you're in, if you feel there's something your organisation could do to help Chernobyl Heart, we'd love to hear from you. Please bear in mind though, we do already have more than two toasted-sandwich makers.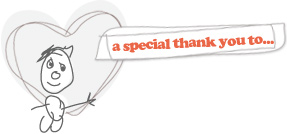 Dave Parkinson
Dave has breathed life into Freebird's designs, with his supadupa programming skills. He's alright is Dave.
Louise Taylor
Louise, aged 5, drew the original Gomel Weenies. She's very advanced. She takes her A Levels next week.