news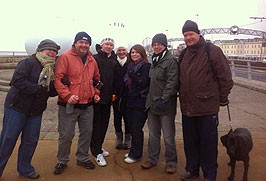 Achievement and exhaustion on our sponsored walk
Our sponsored walk has left us tired, drained and a bit cold - but it was SO worth it to raise the last batch of money we need to buy crucial lifesaving equipment for the children at Gomel Children's Hospital. Thank you for all your support!
The 10th of February saw a team of seven people and a Labrador wrap up warm, put on their most comfortable trainers, and brave the unforgiving Lancashire coastline in the name of Chernobyl Heart. Our sponsored walk took us from Starr Gate beyond Blackpool's South Shore, right the way up to Fleetwood Ferry. Our original assessment of the route as covering 11.3 miles turned out to be rather conservative, as the coast-hugging promenade route we took was actually 12.8 miles - no mean feat on a cold February day!
The team - Nige Burton, Jamie Salisbury-Jones, David Parkinson, Zoe Ruckledge, Claire Shuttleworth, Rachel Mallett and Tony Mills - were joined by intrepid four-legged companion Sasha, who motivated everyone to keep the pace up until, well, she ran out of oomph herself. Spurred on by the amazing sponsorship from friends, family and work contacts, we completed the journey in 3 hours and 40 minutes before heading home to soak our tired toes.
Our pledged sponsorship money is still coming in, but please check back soon for an update on the amount our walk has raised. Remember, you can still sponsor us retrospectively either by Paypal (fill in that big orange box up there on the right and click the "donate" button), or by sending a cheque payable to Chernobyl Heart to the address on the Contact page. Thank you so much for your support - together, we can achieve something very real by buying a new piece of diagnostic equipment that can save the lives of Chernobyl's forgotten victims.
Enter your email address to register for updates: