news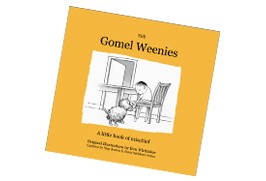 Meet the Gomel Weenies!
The children of Chernobyl Heart are up to all sorts of naughtiness in our new cartoon book
We're proud to announce the release of our new book "The Gomel Weenies: A Little Book of Mischief". Featuring charming cartoons by acclaimed illustrator Ron Whittaker, it'll show you the lighter side of our work, and the fun that the children of Gomel would love to get up to if they felt better. As you follow the adventures of Nikita, Anna, Nikolai and their friends, you'll see that deep down, the weenies are just like any other adventurous kids, although their vivid imaginations do tend to get them into some scrapes.
You can order "The Gomel Weenies" online from Blurb.com - it's available in hardback or paperback, with all proceeds going to help buy new equipment to help the weenies themselves. Check out the preview and order your copy here!
Enter your email address to register for updates: