news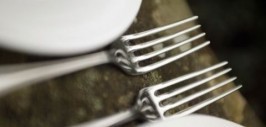 Fundraising success at our Gala Dinner
An unforgettable evening that will really change lives
The first Chernobyl Heart Gala Dinner really was an event to remember. On Friday 12th November, the Bourne Poacher in Thornton Cleveleys gave local supporters of Chernobyl Heart a chance to get together and raise funds for the Gomel Weenies.
And what a night it turned out to be! Our patron Andrew Lancel performed a duo of classic ballads and ran the Experience Auction, where guests competed for a fabulous collection of memorable experiences including a weekend in a Lakeland cottage, a day's cookery course, and much more besides. Our guests went far above and beyond the call of duty in their bids, donating many hundreds of pounds for the prizes available and snaffling some wonderful experiences into the bargain.
But it didn't stop there. Local stars Howard Wing and Calvin Henry provided silky smooth vocal and saxophone accompaniment to the delicious three-course meal, and it didn't take long before guests were dancing on their chairs. Our cartoon book "The Gomel Weenies" also proved a sell-out success, with artist Ron Whittaker on hand to sign copies for those lucky enough to grab a copy. Meanwhile, sales of raffle tickets raised a fantastic sum of money and guests walked away with some great prizes, many of which were kindly donated by local businesses. Of course, nobody lost sight of what the evening was really about - a showing of our promotional film reminded everybody of the importance of the cause and helped to explain just why it's so important that we help where we can.
We'd like to thank everyone whose generosity made the evening so special and raised a huge sum of money which will buy invaluable new equipment for the Gomel Children's Hospital. Particular thanks are due to those businesses and individuals who donated prizes for the raffle and the Experience Auction; you've made something amazing possible.
Do check back regularly to find out about future events, but if you have any fundraising ideas of your own, please let us know. Even the smallest donation makes a difference!
Enter your email address to register for updates: