news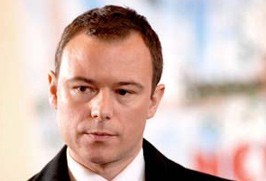 TV actor Andrew Lancel becomes first Chernobyl Heart patron
Bill star helps to launch charity
TV regular Andrew Lancel, star of ITV's The Bill, has signed up to become a patron of Chernobyl Heart. The busy actor, who lives with his family in London, has always been a passionate supporter of children's charities.
Said Andrew: "I'm very proud to be associated with Chernobyl Heart, and honoured to be a patron. I hope I can be worthy and prolific in the exciting times ahead.
"There's a lot to be done, and Nige and Jamie have kept me completely up-to-date with events during their recent visit to the Gomel Children's Hospital in Belarus. I'm just glad to be able to help in any way I can."
As the publicity drive for the new charity gets underway in earnest, Chairman Nige Burton gave his reaction to the news: "Andrew is a really great, genuine guy, and has a heart of gold. We are completely thrilled he'll be helping us raise our profile in this way."
Andrew is Chernobyl Heart's first patron.
Enter your email address to register for updates: