news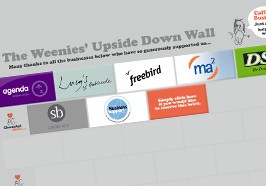 Businesses unite to support the Gomel Weenies
A new way to help Chernobyl Heart make a difference
As fundraising continues - remember, we need to reach that magic £20,000 in order to purchase the first set of equipment for Gomel Children's Hospital - the launch of the Chernobyl Heart Wonderwall makes it easier than ever for your business to show support.
The Wonderwall is made up of lovely little bricks and for just £200, your company can sponsor one. We'll design your brick with your company logo and link to your website as well if you have one - the perfect way to show that you've helped the Gomel Weenies! All kinds of companies have already shown their support by sponsoring a brick, and we'd love to see it fill up completely.
Sponsoring a brick doesn't cost much, but it'll make a huge difference to the children of Gomel. If your business would like to sponsor its very own brick, head over to our Wall page and make your donation online. Thank you!
Enter your email address to register for updates: