news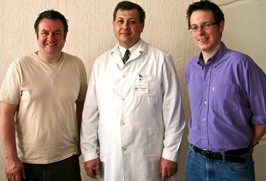 First visit to Gomel Children's Hospital a success
Charity's first mission to raise money for much needed medical equipment is agreed and underway
Chernobyl Heart founders Nige Burton and Jamie Salisbury-Jones recently travelled to Gomel, in south-east Belarus, to visit the children's hospital there, run by Dr Oleg Zimelihin and his team.
Said Jamie: "It was a hugely successful visit, if a little heart-breaking at times. It's very clear Dr Oleg is accomplishing great things here, but a massive funding deficit is hampering the work of the hospital, causing unnecessary death and suffering for the children."
Established in the fifties, Gomel Hospital is literally creaking under the burden of its largely un-financed task, and the first aim of Chernobyl Heart is to raise much needed cash for diagnostic equipment. Speaking through an interpreter, Dr Zimelihin said: "It is too late to treat some of the children because we do not have the necessary apparatus to diagnose problems early enough. Many more could be successfully treated if this were not the case."
Commenting just after the visit, Nige Burton said: "We have at least, now, been able to assess the scale of the problem, and agree with the doctors a cohesive plan to help remedy things.
"There's a lot of fund raising to be done, but we are determined that this situation will not continue any longer than it has to."
Enter your email address to register for updates: