news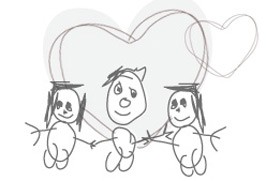 Celebrated artist accepts commission for The Gomel Weenies cartoon book
Publication of limited edition charity book scheduled for Autumn, 2010
The prolific artist and illustrator Ron Whittaker has accepted the commission to draw the cartoons for the first Gomel Weenies book, due to be published later this year.
Based on the stick figures who populate the Chernobyl Heart website, The Gomel Weenies will be a cartoon book featuring the adventures of the weenies as they recover and leave the Gomel Children's Hospital.
Said Ron: "It's an honour and a privilege to be asked to work on a project like this, and I'm very much looking forward to helping to create something so special."
Of the forthcoming book, charity chairman Nige Burton said: "We have to remember that, amongst the sadness and despair here, the Gomel Hospital is doing superb work. Children are being successfully treated and saved, and we just want to make it possible for many more to benefit from effective medical care.
"This little cartoon book will be edgy and, hopefully, funny. Childhood should be about fun, and this is a little celebration of the inspirational and pioneering skills of the Belarusian doctors who are giving these kids a future."
Each of the limited edition volumes will be personally signed by Ron, and all proceeds from the book will go towards helping the real Gomel Weenies.
Enter your email address to register for updates: